Alumnus Austin McChord creates endowed awards for creative RIT students and professors
Four endowments named after McChord's grade school teachers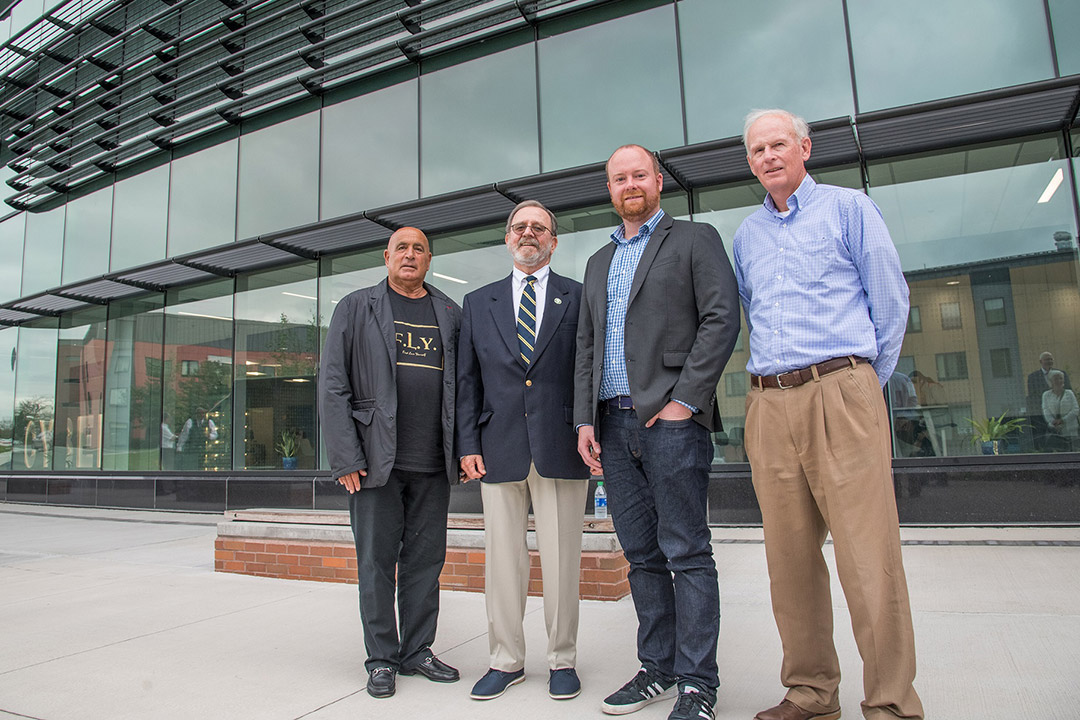 Keith Bullis
RIT alumnus and founder of Datto Austin McChord is creating four endowment awards to support RIT students and professors.
In naming the awards, McChord '09 (bioinformatics) is honoring his grade school teachers from his hometown school district in Newtown, Conn. The endowments are made possible as part of a $50 million donation that McChord made to RIT in 2017. That gift has also funded new facilities and programs at the university.
McChord, his parents, and the teachers took a private plane to Rochester, N.Y., on Oct. 15 to visit RIT and see the impacts that McChord's donation has made on campus.
"While considering what to name these endowments for professorships and scholarships, I thought back on my own time in school and the educators that had an outsized impact on my experience," said McChord. "I was lucky to have many great teachers, but there were four people in particular whose effort and commitment made a memorable, lasting difference in my life. I chose to name the endowments after them as a way to thank them and honor the life-changing work that great educators make in the world."
The scholarship, fellowship, and professorships will aid experts in cybersecurity and people pursing creative ventures. The four endowed awards include:
Al Washicko Endowed Scholarship for Creative Students—Named after McChord's fourth-grade teacher, the scholarship is for students with a creative interest and aptitude, and an interest in entrepreneurship.
John Vouros Endowed Professorship in a Creative Discipline—Named for the teacher who ran the gifted program at McChord's school, the professorship recognizes faculty doing great things in bridging creativity and technology.
Kevin O'Sullivan Endowed Professorship in Cybersecurity—Named for McChord's high school calculus teacher.
Jennifer Tarabulski Endowed Graduate Fellowship in Cybersecurity—Named for McChord's middle school computing teacher.
"As teachers, knowing that we have succeeded in encouraging our students, challenging them, and inspiring in them a love for learning is our greatest reward," said Washicko. "Austin's decision to honor us is surely the highest compliment an educator can receive from a former student who has met with such great success."
For Vouros, who spent 35 years teaching creative thinking, the moment was a highlight of his work to create environments where divergent thoughts are valued. He remarked on how McChord tapped into his creativity when he created Datto.
"I am honored and humbled to be recognized in this way," said Vouros. "I am thrilled to be part of an institute where ideas are sought, validated, protected, and extended."
McChord founded Datto, a global provider of Total Data Protection Solutions, in 2007. Starting with an idea he had while a student at RIT, McChord created the company in the basement of his father's office building. His original goal of building basic back up for small businesses across the country expanded dramatically, and in 2017 the company was acquired by Vista Equity Partners for around $1.5 billion.
McChord is currently CEO of Casana, a healthcare technology firm that is re-inventing in-home health monitoring. Casana was started at RIT.
McChord's $50 million gift to RIT was the largest donation ever made to the university. The donation is part of a continuing $1 billion blended fundraising campaign, titled Transforming RIT: The Campaign for Greatness.
The gift has helped create RIT's Global Cybersecurity Institute (GCI), a facility focused on cybersecurity training, education, and research. The gift is also helping create The SHED—the Student Hall for Exploration and Development—which will include huge makerspaces, classrooms, a black-box theater, dance studio, and music rehearsal rooms. The building will be located in the center of campus and will open in fall 2023. The gift also created the Gap Year Entrepreneurship Fellows Program, which allows students with an ongoing enterprise to take a year to focus their full attention on the venture.
Topics