Annual Day of Thanks honors generosity and impact of RIT donors
Alumni and founding Sentinel Society members Brandy and Luiz Freitas give back in thanks to the spirit of connectivity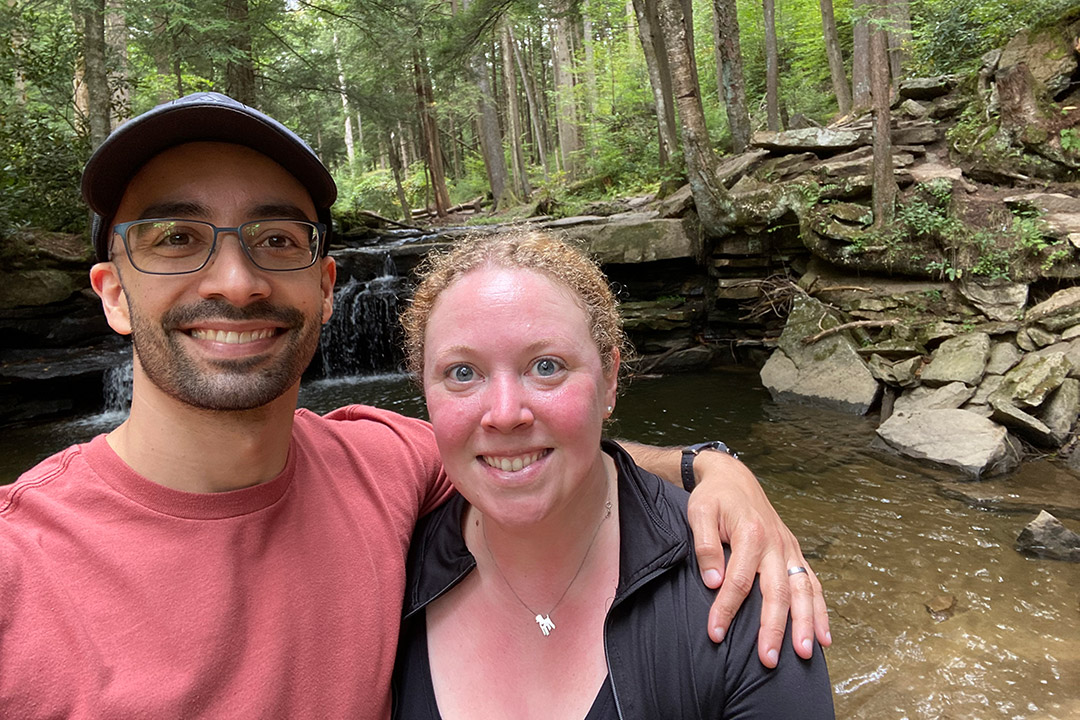 RIT alumni Brandy '08 (biochemistry) and Luiz '07 (economics) Freitas are proud that they are able to give back to the university community that means so much to them. Not only did they meet one another nearly 20 years ago as Honors students, but they credit much of their professional successes to their time spent at RIT, both in the classroom and during their co-op experiences.
Each year, the generosity and impact of donors are honored during RIT's Day of Thanks. The recognition celebrates financial gifts that help create opportunities for students, as well as time spent that builds professional relationships between students and alumni.
On Nov. 15, all RIT donors will be sent a "thank you" video message featuring students who express their gratitude and share how donor support has impacted their RIT experience. Faculty and staff donors are encouraged to visit the Student Alumni Union from 10:30 a.m. to 1:30 p.m. to pick up a special chocolate bar created exclusively for the faculty/staff Give From Within Campaign.
For Brandy Freitas, one reason that she was able to attend RIT was because of scholarships that became available thanks to the generosity of donors.
"I was encouraged by my faculty in the College of Science to engage in research fellowships and scholarships, and I was able to get a huge leg up when it came to continuing my education and furthering my own scientific research," she said. "We both focus our giving on RIT because we benefited immensely from going there."
Luiz, who is active as a member of RIT's Alumni Association board of directors, feels compelled to give as he remembers the relationships with peers and faculty that he developed while he was a student.
"Many of the people that I connected with at RIT remain friends for life, and the professors that I worked with, one-on-one, helped solidify the career path that I chose," he said. "We're happy to support similar opportunities for current students, many of whom are trying to figure out what they want to do. Every little bit helps."
The couple, who reside in Boston, are founding members of RIT's Sentinel Society, which recognize a community of leadership donors who make a meaningful annual investment in the university. These donors provide gifts that provide financial aid scholarships and fund RIT's most pressing and immediate needs across campus.
"We're honored to be part of the Sentinel Society, but I think more importantly, it shows that we plan on being supportive to the university for the long term," said Luiz.
Both also support the pillar of giving by donating their time through mentoring students, supporting and attending campus events, and delivering academic talks.
Phil Castleberry, RIT's vice president for University Advancement, expressed the university's gratitude for its donors.
"We are truly grateful for every donor, no matter the size of the gift," he said. "It is vital to the continued success of our university that we continue to cultivate a culture of philanthropy and engagement with RIT alumni, campus community members, and friends. With each gift, we are a step closer to meeting and exceeding the ambitious goals of Transforming RIT: The Campaign for Greatness, which will help ensure that our students continue to receive the top-notch education and experiences that they deserve."
Luiz Freitas echoes that sentiment.
"It's amazing that one conversation with a student can have such an impact," Luiz said. "Giving, even in small ways, can result in high value."
Transforming RIT: The Campaign for Greatness is a $1 billion university fundraising effort, the largest in university history. This blended campaign seeks support from a variety of investors, including alumni and friends, government and corporate partners, and research foundations and agencies. The campaign has raised $847 million to date.