In early March 2020, one of the UK's most enigmatic and exclusive car makers – Bristol Cars – went the way of Armstrong Siddeley, Humber, Daimler, Jensen, Gordon-Keeble and too many other former British luxury marques, as the Company was wound up, possibly never to return.
After 75 years of trading since the founding of Bristol Cars in 1945 and introducing its first pre-war BMW-derived 400 model the following year, this quintessentially British car maker went into liquidation, reportedly owing millions of pounds to its creditors.
How much is your car to insure? Find out in four easy steps.
Get a quote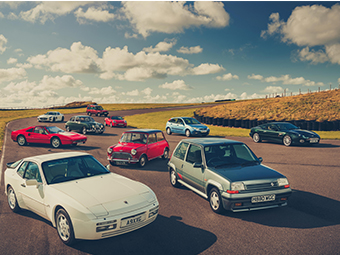 A petition to wind up Bristol Cars was brought about by HMRC in December 2019, and by January 2020 the High Court of Justice had ordered Bristol's owners, Surrey-based engineering group Kamkorp Limited, to pay its creditors through the sale of assets.
With roots dating back as far as the late 19th Century in the tram, bus and later pioneering aviation industries, Bristol Cars was established immediately after the Second World War in the Bristol suburb of Filton. It formed part of the Bristol Aeroplane Company (BAC), the sizeable aircraft plant that had employed around 70,000 personnel when aviation production was at its wartime peak.
Astutely recognising that demand for new aircraft would reduce substantially when global hostilities eventually ceased. As early as 1941, BAC considered other potential manufacturing sectors to protect its workforce and keep them gainfully employed post-war. With a skilled engineering base and proven manufacturing facilities, allied to the realisation that demand for personal mobility would increase rapidly in the aftermath of WWII, BAC turned its attention to the private motor car sector.
A chance BAC senior employee meeting with D.A. Aldington – a wartime Ministry of Aircraft Production inspector and a director of Frazer-Nash, the niche sports car maker and pre-war UK BMW distributor – saw an agreement quickly made, with BAC creating a car division and taking control of Frazer Nash.
With Aldington's strong BMW connections and the support of the British War Repatriations Board, after demobilisation BAC travelled to Munich and acquired manufacturing rights to three pre-war BMW models, plus its hallowed 'M328' 2-litre, straight-six engine.
Returning to Filton with BMW car plans, as well as BMW's gifted pre-war engineer Dr. Fritz Fiedler, BAC quickly set about developing the first Bristol prototype car in 1946, creating a cocktail of a modified BMW 326 chassis, 328 engine and reworked 327 coupe coachwork. Under the personal direction of BAC's Managing Director (and the founder's son) Sir George White, the new Bristol car was developed to the rigorous brief of creating a high-quality sporting machine, engineered and built to exacting aircraft standards.
When the resultant Bristol 400 car was revealed at the first post-war Geneva Motor Show on 11 February 1947, the model not only met, but exceeded, the demanding parameters White had set for the car, with the inaugural Bristol receiving universal acclaim.
Bristol's close-coupled 400 sporting saloon displayed clear inspiration from the pre-war BMW 327, with an obvious visual connection to the Munich marque through its elongated double-kidney grill, a feature also carried over to Bristol's subsequent 401-403 models, as you can read about in Part 2 of this potted Bristol history and appreciation.
The high-quality Bristol 400 and dashing Jaguar XK120 rival were darlings and envy of the late 1940s British motor industry, both portrayed as the ultimate sporting automobiles. Freddie Gordon-Lennox, the 9th Duke of Richmond, owned an example of the Bristol 400 and famously used his 'discerning car of the moment' to officially open the Goodwood Motor Circuit for the UK's very first post-war public motor racing track meeting on 18 September 1948*.
The successful four-seater 400 was soon joined by the handsome five-seat Bristol 401 in late 1949, a state-of-the-art luxury fastback saloon with exceptionally smooth and aerodynamic coachwork that took some inspiration from the stunning contemporary Touring-bodied Alfa Romeo 8C Berlinettas that shared the 'Superleggera' lightweight aviation-style frame construction.
Sharing the 400's fine 85bhp 2-litre straight-six motor and separate chassis (the latter used for all Bristol models until the Fighter gullwing coupe of 2004, and endearing the chassis to numerous leading coachbuilders, including Pininfarina, Zagato, Beutler and Touring) the 401 led to the rare soft-top 402 'Hollywood Special' derivative (with just 24 examples made), plus the enhanced Bristol 403 that shared the 401's smooth coachwork, but with a more powerful 100bhp engine, improved brakes, transmission and true 100 mph+ performance; something unheard of for a civilised luxury saloon at the time of its 1953 launch.
The more powerful 403's engine saw action in the challengingly-styled Bristol 450 competition cars that contested the 1953 Le Mans 24 Hours race, the Bristols lapping a full five seconds quicker than any of the opposition until suffering from failures of their experimental crankshaft. Bristol went on to take Le Mans class victories for the following two years. Installed into a surprising variety of other performance cars, the Bristol straight-six motor also took (and continues to take) many laurels in AC, Cooper, Lister, Lotus and other race and road car applications, making this tunable engine still highly sought-after today.
Alongside the 403 in 1953, Bristol also astounded the world by revealing its sporting 404 coupe, an exciting but expensive two-seater GT that was soon nicknamed the 'Businessman's Express.' Mounted on a shortened 400 chassis with a tuned 125bhp performance engine, the dapper 404 was the first Bristol model to introduce an innovative feature that soon became a 'signature' trademark of Bristol Cars; a spare wheel, plus battery and ancillaries, mounted within the wheelbase and cunningly concealed inside the front wings to increase luggage capacity in the uncluttered boot, ease maintenance and improve weight distribution.
The 404 was also the first Bristol car to replace the 400-403 double-kidney BMW-hangover grille with an aerodynamic air intake to reflect the contemporary Bristol jet aircraft built in the same Filton factory. The 404's modern frontal styling was applied to the Bristol 405 in 1954, the first and only four-door Bristol model with almost 300 examples built, a high number by Filton standards.
The 405 was succeeded by the Bristol 406 in 1958, this model seeing a return to the marque's 'traditional' two-door luxury sporting saloon with a new, svelte and modern three-box style that essentially carried the Filton marque through to the mid-1970s via a series of evolutionary design changes made most years in the subsequent 407-411 saloons. The 406 was the last Bristol model to be powered by its own, trusted six-cylinder motor, the engine capacity being increased to 2.2-litres.
Midway through the 406's three-year production run, in 1960 Bristol Cars became independent of the aircraft-making business at Filton as BAC was forced by British Government policy to merge its aircraft interests with three former aviation rivals to form the British Aircraft Corporation, the forerunner to British Aerospace and BAE Systems.
In September 1960 the chairman and effective founder of Bristol Cars – George White (later Sir George) – bought the Company, retaining direction but selling a 40 per cent shareholding to Anthony (Tony) Crook, the now-legendary motor trader and former racing driver and Battle of Britain RAF pilot who went on to become synonymous with the marque.
Based in Caterham, Surrey, Antony Crook Motors was the UK importer for Abarth and Bristol's leading sales agent, and soon its sole distributor, moving into the landmark Bristol Cars London showroom at 368-370 Kensington High Street with its famous neon sign over the showroom door that very rarely worked, often reading 'risol ars' when passed at night!
The 1960 split of Bristol's aircraft and automotive divisions left the car company without the means to develop its own engines, and its faithful re-engineered BMW straight-six was fast becoming outdated against larger V8-powered rivals from Bentley, Jensen, Gordon-Keeble, et al, often mated to a new-fangled automatic transmission that Bristol was unable to offer.
Mr. Crook (as he was commonly known) found a solution by sourcing a Canadian-built V8 engine, produced by Chrysler. With Bristol being so frightfully British, selecting a USA-made V8 would have been considered vulgar and inappropriate, whereas an engine from Canada was considered to be acceptable as a Commonwealth country.
Bristol's first V8 model was the 5.2-litre Bristol 407 of 1961. Although outwardly similar to the 406 it replaced, the new 407 finally offered automatic transmission (increasingly regarded as 'a must' in the upper-luxury car segment by the early 1960s) mated to the mighty 250bhp V8 to give effortless performance, 125 mph capability and armchair comfort.
Bristol V8 sporting saloons evolved throughout the 1960s from the 407 via the subsequent 408-410 models. For 1970 the enhanced Bristol 411 was introduced, powered by a larger 6.3-litre B-Series Chrysler V8 providing a 30 per cent power lift, with the short-lived 1972-73 Series 3 derivative arguably being the ultimate Bristol V8, identifiable by its large quad headlamps, distinctive 'BBQ' grille and charming 'teardrop' tail lamp units, sourced from a Hillman Super Minx.
By the time the 411 S3 was being displayed in the Kensington showroom, Sir George White had sold his majority stock in Bristol Cars to Anthony Crook, who became the company's sole owner and distributor.
Astonishingly, under his sole custodianship, he kept Bristol afloat whilst luxury British rivals such as Aston Martin, Jensen and Panther collapsed financially or disappeared altogether. With a discrete and discerning client base, many loyal to Bristol and Mr. Crook, the quirky car maker quietly went about its business while others were hit hard by the oil crisis.
In 1975, Crook revived a long-established Bristol relationship with Milan coachbuilder Zagato to style and build the 412, an audacious (by Bristol standards) luxury sporting targa-topped tourer that resembled a giant Lancia Beta Spider (also assembled by Zagato). This bold change of direction worked, bringing new customers to the London showroom and diverting them away from the Rolls-Royce Corniches or Aston Martin V8s they might have otherwise ordered.
The unresolved 412 spawned the later Beaufighter, a seriously quick turbocharged performance derivative and the first Bristol car with a name (rather than a number) drawn from the marque's aviation heritage. A LHD export-only Beaufort convertible version was developed too, with the sole example made still in existence today.
In 1976 Mr. Crook struck again with another challengingly-styled new model to replace the last of the 'acceptable' Bristol V8s, the charming 411 moving aside for the mis-shapen 603. Although unknown at the time of its introduction, the 603 would form the basis of the last of Bristol's two-door sporting saloons, with the facelifted Brigand, Britannia and final Blenheim, models all derived from this 1976 original. The very last Blenheim built in 2011 was the final model to still use the separate Bristol chassis first seen in 1946.
Ahead of this, in 1997 at the sprightly age of 77 and still working hard, Mr. Crook sold a 50 per cent holding in Bristol Cars to a small consortium of businessmen, headed up by Bristol customer and enthusiast, Toby Silverton.
To help revive interest and revenue for the company, the two men designed an ambitious new sports car; a gullwing GT that they thought would be Bristol's saviour. The end result was the ambitiously named Bristol Fighter, this exciting new 'supercar' being a nod to the company's aeronautical past, with a bespoke Bristol re-worked Dodge Viper V10 engine, developing over 1,000bhp in certain states of tune, with top speeds of 210mph, advanced aerodynamics, and equipped with novel features such as an 'engine running time' gauge, as found in aircraft.
Launched in 2004, two years after Mr. Crook had transferred full ownership of Bristol Cars to Silverton, the carbon-fibre bodied £250,000 Fighter (the first Bristol not to use its faithful separate chassis) came as something of a shock for the conservative but quirky British car maker, causing certain surprise and muted acclaim, even from non-Bristol converts (of which there are many!).
Crook and Silverton inevitably fell out over development and production of the Fighter, with at least nine examples made, and possibly as many as 16, with each allegedly being slightly different. In late 2007 Mr. Crook painfully relinquishing his connection with Bristol Cars, almost 50 years after he first became involved in helping to run the business. Silverton battled on until March 2011 when the Company went into administration, as roguishly predicted by Anthony Crook without his experienced guiding hands on the wheel! Mr. Crook later passed away on 21 January 2014, aged 93.
Just weeks after Bristol's 2011 demise, the marque was 'saved' by the Surrey-based Kamkorp engineering group, with the landmark Kensington showroom and outer-London service centre retained and active. Kamkorp set about the creation of new Bristol models, including an extended-range hybrid luxury saloon to rival Aston Martin and Bentley (which never saw the light of day), plus the daring neo-retro Bullet (inspired by the 404 and an early one-off 406 'barchetta' prototype) to help re-launch the marque and build excitement, awareness and potential new customers.
The two-seater Bullet was revealed in prototype form at the 2016 Goodwood Festival of Speed, reviving Bristol's historic BMW links by using a Bavarian 4.8-litre V8 powerplant, all wrapped in an appealing carbon-fibre open-top body devoid of a windscreen and weather protection. Just 70 numbered examples of the £250,000 Bullet were planned to be built – one for each year of Bristol Cars' existence at the time – with a few early orders placed.
A lack of commitment and investment, allied to a poor understanding and appreciation of the brand and its quirks, saw Kamkorp shamishly mismanage Bristol, leading to its sorry recent demise with no production Bullet models ever built or delivered to expectant clients.
On a brighter note, the Bristol Owners' Club claims to be now 'actively engaged' with the Bristol's liquidators to preserve what it can of the heritage and associated spares for the marque, and there are rumours of various interested parties looking to acquire the brand and hopefully revive this once-proud British prestige car maker.
Many observers and motoring enthusiasts are hopeful that Bristol falls into the right hands that will respect and understand this quirky but quality marque. Hopefully, Bristol Cars will quickly be exhumed to live once more and create future distinctive cars that are suitably 'ship shape and Bristol fashion.'
Here's hoping. Bristol have been a significant part of my life for many years; in Part 2 I will be giving a personal recollection of this wonderful marque.
Subscribe to read Part 2, which will be published soon.
*Blandford Camp in Dorset held the first post-war road racing event, attracting 10,000 spectators on 25th July 1948, but was not a formal circuit race.