Construction on Performing Arts Theater complex expected to start next spring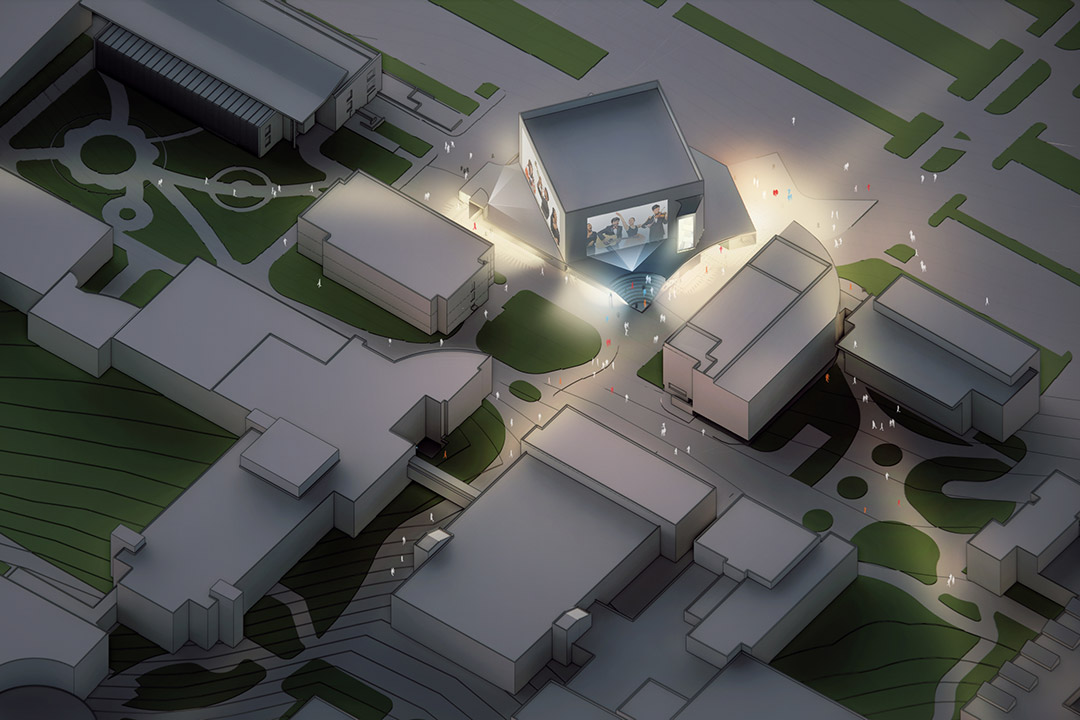 Michael Maltzan Architecture Inc., Los Angeles
With thousands of RIT students involved in performing arts expected in the next few years, plans are moving forward for a performing arts complex that will feature a 750-seat theater and eventually a 1,500-seat orchestra hall for larger audiences.
The project, to be erected adjacent to Institute Hall and Engineering Hall, is intended to provide more venues for the RIT community as well as options for community groups to hold concerts, talks, and other events.
The complex will be built in two phases.
James Yarrington, RIT's university architect and director of Planning and Design Services, said construction of the first phase—tentatively called the "music performance facility"—is expected to begin in the spring of 2022, with a completion date of fall 2023. It will be more than 40,000 square feet, three-stories tall and have truck access. The theater is expected to have two balconies and feature a historical restored theater pipe organ.
It will also have costume and scene shops as well as offices. Yarrington said the Rochester area has numerous theaters that can seat a couple hundred audience members, but there are few options for venues that seat between 700 and 1,500 people. By comparison, the Robert F. Panara Theatre in Lyndon Baines Johnson Hall has 440 seats.
The first phase is expected to cost more than $35 million, which is part of RIT's approved capital bond project. Additional funds will be sought to restore and install the pipe organ.
The second phase, which is funding dependent, will feature an expanded lobby and more than double the size of the building with the 1,500-seat orchestra hall and a stage big enough to accommodate a large philharmonic orchestra, major events, and lectures.
RIT intends to develop the leading performing arts program in the nation for non-majors, attracting talented and creative students who can continue their passions for music, dance, theater, and other performing arts. Last year, partial performing arts scholarships were awarded to 380 first-year students, tripling the number of students given performing arts scholarships in the previous, inaugural year of the scholarship. More than 450 performing arts scholarships were offered to incoming first-year students this year.
The Los Angeles-based firm of Michael Maltzan Architecture, which has designed performing arts buildings for other universities, is the design architect. The architect of record is SWBR, a local company that also was involved in construction of the MAGIC Center.
Topics