RIT celebrates graduate student research with weeklong virtual symposium Nov. 16-20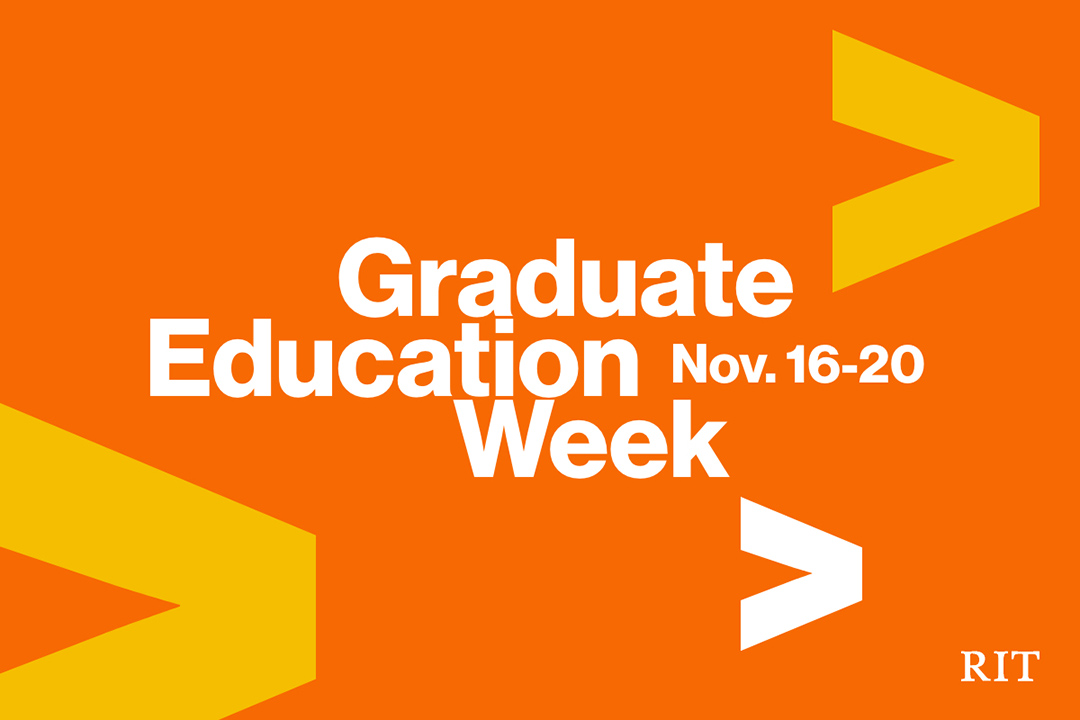 RIT graduate students devote countless hours to research and creative scholarship en route to their master's and Ph.D. degrees, forging career paths and making valuable connections with peers, mentors, and alumni.
RIT will celebrate graduate research during the 13th annual Graduate Education Week and Showcase: A Vision into the Future. The virtual event—Nov. 16 to 20—creates a platform for sharing and exchanging ideas during the COVID-19 pandemic, with pre-recorded and live presentations, demonstrations, visual exhibitions, and an alumni panel discussion. The celebration will be held via Zoom (registration required) and introduced by Janet Lomax-Smith, RIT Journalist in Residence in the Division of Diversity and Inclusion.
Twyla Cummings, associate provost and dean of graduate education at RIT, is impressed by the high participation of students in this year's program. "RIT graduate students have surmounted extraordinary obstacles to continue their work," Cummings said. "Their success reflects their own commitment and the strength of RIT's graduate community."
Nearly 50 graduate students will present their work during the symposium, covering a range of topics from astrophysics to goldfish to the psychological consequences of COVID-19. Among the lineup are Victoria Butler, Wenrong He, Basant Kaur, Sabrina Ly, Sheethal Umesh Nagalakshmi, Kamal Rana, and Gaurav Shivaji Wagh.
Research opportunities continue to grow at RIT despite the global pandemic.
"RIT achieved a new high-water mark in terms of sponsored research awards in fiscal year 2020," said Ryne Raffaelle, RIT vice president of research and associate provost.
The university received 383 new awards totaling 81 million dollars, and the total number of active reach projects grew to 669.
"The growth of research and graduate education is a pillar of RIT's Greatness Through Difference strategic plan and essential for us to be an outstanding student-centered national technical university," Raffaelle said. 
RIT is already a Carnegie R2 research university under the Carnegie Classification of Institutions of Higher Learning. This category, reserved for high-research activity institutions, places RIT in the top 6 percent of colleges and research universities in the nation. Goals of RIT's strategic plan include expanded graduate offerings and the conferral of 50 doctorates per year by 2025.
Graduate Education Week and Showcase: A Vision into the Future is hosted by the Office of Graduate Education and sponsored by Research at RIT, Hammer Packaging, NRGXP, Parker & Burke at Sage Rutty, and Robert Eller, Gravure Endowed Professor.
Topics